The progressive city that few knew
(Image credit: Westend61/Getty Images)
If you're wondering where to spend a few days in the Netherlands then instead of visiting the over-touristy Amsterdam, why not choose my hometown Nijmegen? It has loads to offer in terms of culture and open countryside. I am not the author of this article but wanted to share it here with you. Hope to see you IRL in my neighbourhood soon!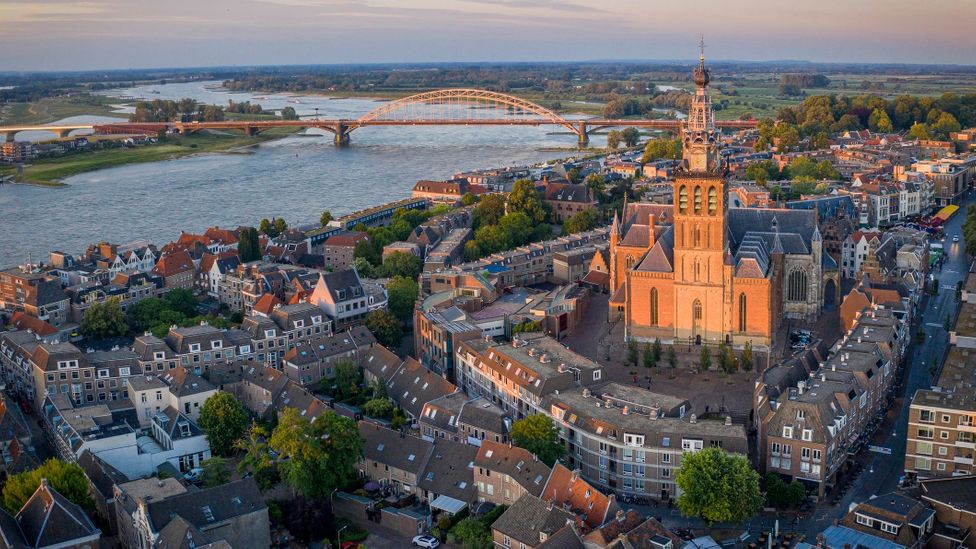 By Ellie Seymour 7th March 2023
Nijmegen may be the oldest city in the Netherlands, but it punches above its weight in terms of green initiatives and sustainability.
In the east of the Netherlands, just 10km from the German border, is Nijmegen, a dynamic and progressive university city that manages to fly under the radar.
This clean, compact city is the oldest in the country, and its number of green initiatives rivals Amsterdam, with residents prioritising quality of life and sustainability. Its historic centre is car-free, it has 60km of cycling "superhighways", its buses run on green fuel, and there are schemes in place that encourage car-sharing. It even has the power to inspire others facing climate change disruption.
While no city can be 100% sustainable, Nijmegen is making some of the boldest strides in Europe in this area. They even decommissioned their coal power station in 2016, which has been turned into a solar park that's home to 9,000 solar panels and two wind turbines that power almost 400 homes in the city.
Yet few outside The Netherlands have even heard of it.
"Nijmegen is referred to in Holland as 'Havana near the Waal'," said Margot Ribberink, a climate activist and the first female Dutch TV meteorologist, referring to the majestic Waal River that cuts the city in two. "The people here are very open-minded."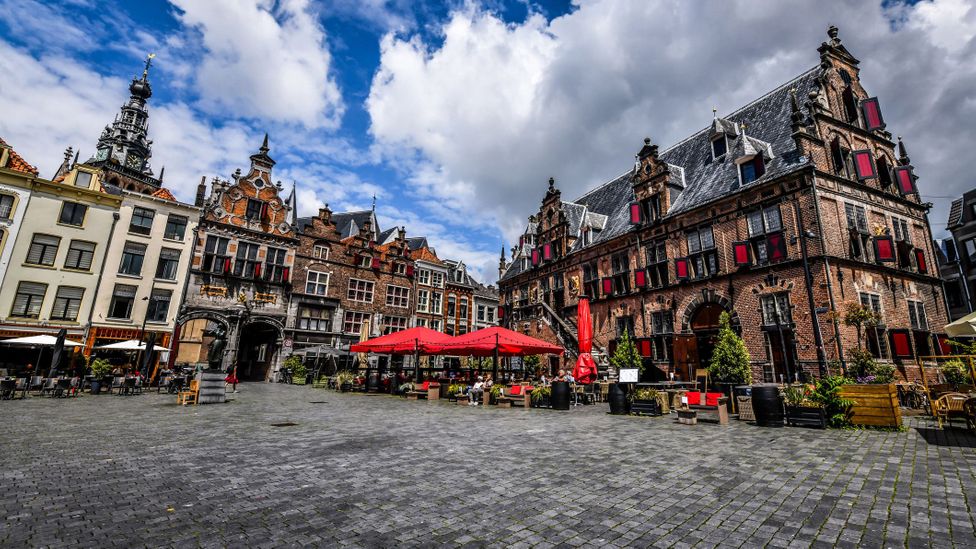 Nijmegen's Grote Markt dates to the 15th Century but the city was actually founded more than 2,000 years ago by the Romans (Credit: AleksandarGeorgiev/Getty Images)
Ribberink and I had met up in Grote Markt, the 15th-Century cobbled square at the heart of the Nijmegen, so she could show me how the city punches above its weight. As we strolled past traditional Dutch townhouses, I breathed the clean, fresh air. One of the main streets – Lange Hezelstraat, which claims to be the oldest shopping street in the Netherlands – was lined with independent shops, vintage boutiques and vegan and vegetarian eateries. I was struck by the potted olive trees lining the litter-free streets, people cycling past on e-bikes and surprisingly few chain shops.
Nijmegen was awarded the title of European Green Capital in 2018, but its progressive roots go back much further. The city has a long history of student activism. It was the centre of Dutch counterculture and protesting back in the 1960s until the mid '80s. In 1963, the Dutch National Student Trade Union Movement was founded here by a student from Nijmegen, named Ton Regtien. By the 1970s, it had become the setting for other socialist gatherings, like women's groups and communes. And today its sustainable values continue to thrive thanks to its large student population.
I fell in love with the city because of the people. Especially the students, who are also very concerned about the world, the environment and the climate
Ribberink came to Nijmegen in the 1980s to study biology. She met her best friends here as well as her partner, and the two settled in Lent, a village on the left bank of the Waal River. "I fell in love with the city because of the people," she said. "Especially the students, who are also very concerned about the world, the environment and the climate."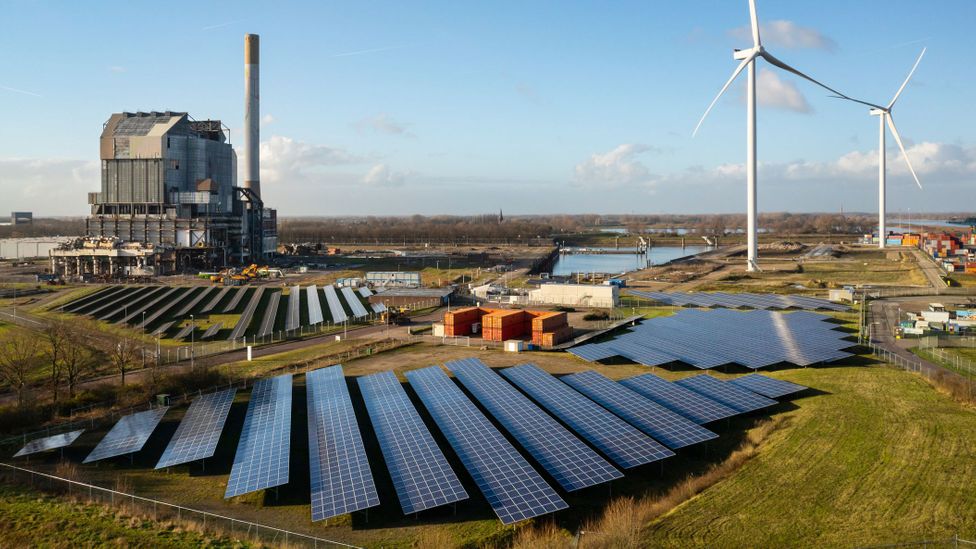 Nijmegen's coal-fired power station has been decommissioned and is now home to solar panels and wind turbines (Credit: Mischa Keijser/Getty Images)
"A lot is happening in Nijmegen around sustainability and the environment," she added. "Radboud University has put sustainability at the top of all relevant fields of study, while businesspeople in the city are active in making our city more sustainable, healthier and greener, including working together to become energy neutral by 2045, and creating options for green mobility and sustainable shops."
As she told me this, we arrived at Het Duurzame Warenhuis (The Sustainable Department Store), the Netherlands' first and only eco department store, which opened in 2014. The spacious, ground-level shop was a zen-like space, with white walls, low lighting and lots of natural untreated wood. "We try to stock almost everything you need to live a less-wasteful life," explained buyer Lisette Hijink. "We stock mostly clothing, all of it eco-friendly and fair-trade… We have a sustainable hairdresser on site and a fully vegan kitchen. Zero waste is one of our core values, and reducing waste in our business is important too, which is hard, but we are focused."
Our next stop was 512 Nijmegen, a stylish and edgy fashion boutique specialising in sustainable clothes and accessories for women. "I sell mostly sustainable and fair-trade brands," said owner, Jettie Wakker. "We make clothes in either small, medium or large and only a few pieces at a time, so we never have debt or waste." She added: "I also know all the people behind the brands I stock. I know their backstories, who their manufacturers and people working for them are."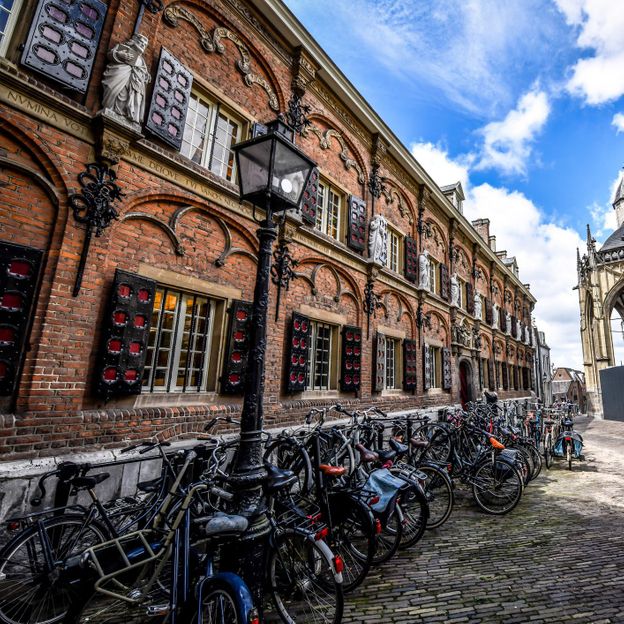 Residents prioritise sustainability, riding bikes through the city's car-free historic centre (Credit: AleksandarGeorgiev/Getty Images)
I noticed that one side of the shop was filled with plants. "All of these are pre-loved," explained Wakker. "If people no longer want their plants, they can bring them to us. Every second-hand plant we sell has its own story, which we pass on to the new owner – for example why it was donated, and how old it is. We don't like to throw plants away."
We wandered into Njmegen's cobbled backstreets for lunch at De Nieuwe Winkel, a vegetarian fine-dining restaurant with two Michelin stars and one Green Michelin star. Opened in 2011, chef Emile van der Staak and his team create experimental multi-course, meat-free tasting menus using an array of herbs, roots, flowers, nuts and plants – some common, others less so – grown in a "food forest" in the village of Groesbeek, 13km from the restaurant. If you don't know what you're looking at, this six-acre plot of land resembles an ordinary wood, dense with free-growing shrubs and trees. But there's one main difference: everything in it is edible.
It's the first 'food forest' of its kind in Europe and we're one of the few restaurants around the world collaborating in this way
"It's the first 'food forest' of its kind in Europe and we're one of the few restaurants around the world collaborating in this way," said Van der Staak. "Menus are planned around more than 400 different species of edible plants grown in the forest, such as peach, chestnut, walnut, pawpaw and Japanese plums."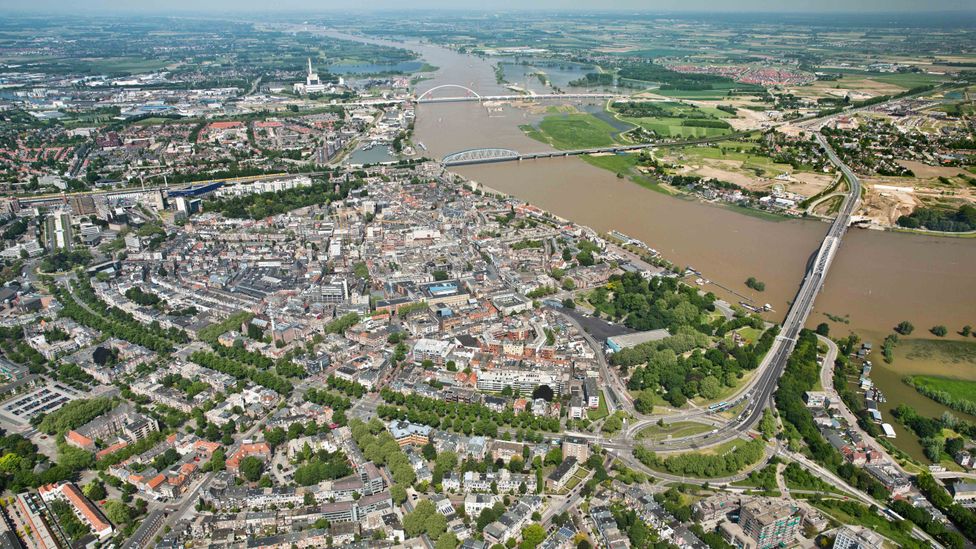 The Waal River is the longest river in the Netherlands, connecting the Rhine in Germany with the port in Rotterdam (Credit: Frans Lemmens/Alamy)
Surprisingly full after my lunch of acorn seitan kebabs, sunflower-seed risotto and other vegan delights, we hopped aboard the Zonnetrein (Sun Train), a novel and sustainable mode of transport consisting of two connected solar-powered buses for taking visitors on sustainable guided tours of Nijmegen. As I looked onto the vast river Waal, which is the longest river in the Netherlands and spans up to 400m wide at points, it was easy to understand how it has shaped the city, both geographically and psychologically.
That's because life in Nijmegen goes hand in hand with flood risk, making the effects of climate change impossible to ignore.
In 1995, the city experienced one of the worst flood threats in its recent history. The water levels became dangerously high in Nijmegen, and the river almost burst its banks – or dikes as they're called in the Netherlands – which could have been devastating. As a precaution, 250,000 people in the region were temporarily evacuated from their homes. Faced with this constant fear of flooding, a nationwide water-management project, Room for the River, was initiated. At Nijmegen, the local council and residents were consulted on how best to protect the city, and a plan, which included creating a bypass river, was agreed.
For centuries, the Dutch have approached managing river overflows by building dikes to contain the water. Instead, this new project worked with the flow of the water by diverting it. To be effective, the dikes had to be moved and some of the river's original floodplain recreated on the northern side of the river. This meant cutting through the village of Lent, where several homes, including Ribberink's, were located.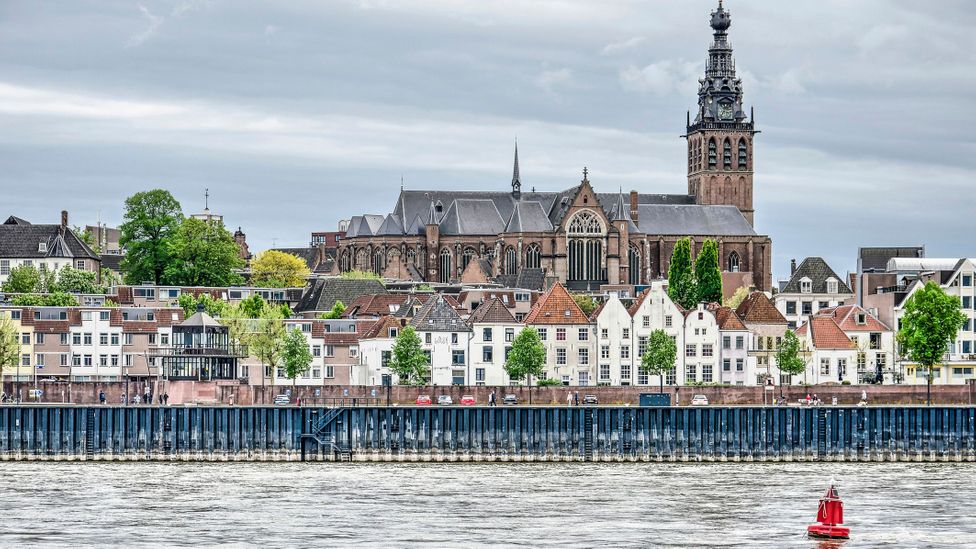 Nijmegen was awarded the title of European Green Capital in 2018 (Credit: Frans Blok/Getty Images)
"The local government saw this as a chance to change the whole area, which meant clearing 56 houses, including mine," said Ribberink. "Most people were offered money to leave their homes to be demolished. But our farmhouse is considered a monument, so together we decided to move it. We put it on wheels and we moved it 1km in one day. We were on local TV at the time."
The result is a huge urban regeneration project that has created a haven for wildlife, a city beach and acres of recreational space where people can swim, take classes, listen to concerts and be outside, including a newly created central island that's filled with flowers in spring. The project – which Ribberink described as "the biggest climate adaptation project in Europe" – has proven it's possible to improve infrastructure while respecting and considering the environment.
"People in our city love the new environment, especially the island we have for recreation, but, as a climatologist, I think we still need to be aware of the fluctuating water levels," said Ribberink. "We need to remember the summer of 2021 when Germany, Belgium and South Limburg in the Netherlands had catastrophic flooding. This could happen again in the future."
Nijmegen is making big achievements in sustainability and is a great example for the rest of the world
She added: "Nijmegen is making big achievements in sustainability and is a great example for the rest of the world. Room for the River has huge power to influence other cities experiencing climate change disruption, especially in the way the local government involved the community to make decisions. Of course, we were shocked to hear we had to leave our homes, but in the end, everybody found a good new place to live and is proud of what the area is like now."
CORRECTION: A previous version of this article incorrectly stated Nijmegen's distance from the German border and the location of the flooding. This has now been updated.
Green Cities is a BBC Travel series that profiles innovative cities and towns around the world that are making bold strides towards a more sustainable future.
—
Join more than three million BBC Travel fans by liking us on Facebook, or follow us on Twitter and Instagram.

If you liked this story, sign up for the weekly bbc.com features newsletter called "The Essential List". A handpicked selection of stories from BBC Future, Culture, Worklife and Travel, delivered to your inbox every Friday.